MTI Load Bar Scale System
The MTI500-WB Load-Bar System consists of two low profile weigh bars, with a stainless steel weighing indicator display. The units ease of portability, carry handles, and built in rechargeable battery, make this a truly portable and flexible weigh system. In fact, this system is commonly used for livestock weighing. Simply place the load bars under an exising squeeze chute or platform and you're ready to weigh. Don't get these confused with Weigh-Tronix Weigh Bars (load cells)
Designed for portable weighing applications in a variety of environments, the MTI load bar system is rugged & flexible and has a capacity of 5,000 lbs (see specs below). The two weigh-bars are only 3.6" high and feature adjustable leveling feet. The standard system features two load bars w/ built in handles, and 20' of homerun cable, quick connector, and a NEMA 4X stainless steel digital indicator w/ backlight.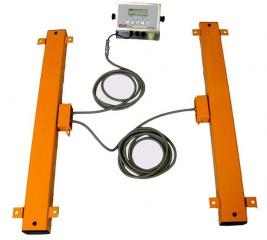 The load bars are made of painted carbon steel. They measure 4" wide x 3.6" high x 33" or 40" long (see sets available below) and are designed to operate in temperatures from 14 to 104 degrees F. Each weigh beam includes two adjustable leveling feet and 4 mounting tabs that allow the end user to attach a custom deck, platform, chute or other device to the bars for a custom solution. The system is ideal for weighing in remote locations, farms, livestock, or for any odd shaped products. The complete MTI 500-WB System weighs only approximately 75 lbs. So, it can easily be moved to another location, and it can be easily stored when not being used.
The MTI500-WB Load Bar System has outstanding standard features. The stainless steel NEMA 4X digital weight indicator is operated by rechargeable battery (includes AC adapter/charger). The standard DWI functions include LB/KG, Tare, and Net/Gross. The indicator has a full duplex RS-232 connection for output to a printer or computer. The indicator also features an animal motion hold. This special software allows you to obtain an accurate weight even if the animal keeps moving on the scale. The indicator comes with a swivel stand that is portable or that can be mounted.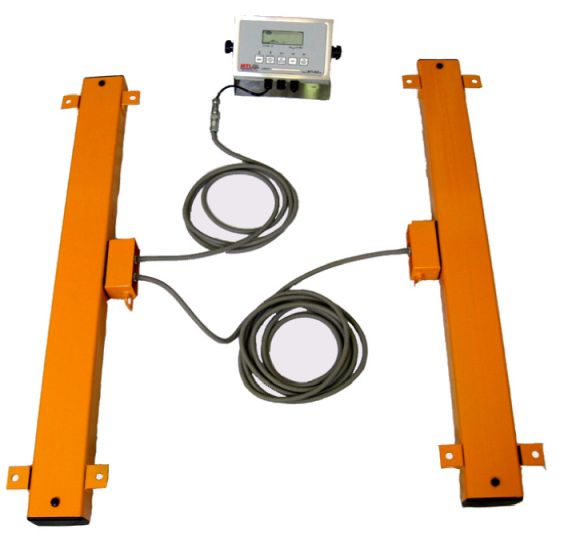 Features
Lightweight and Portable Weigh Bars w/ Digital Readout
Bars are 22", 33" or 40" long x 4" wide x 3.6" high
Quick Connect Cables and Built-In Carry Handles
Two Adjustable Leveling Feet under each Load Bar
Rechargeable Battery Operation -- ideal for portability
NEMA 4X Stainless Steel Backlit LCD Display
Keypad: LB/KG, Zero, Tare, Net, Gross, Print
MTI Weigh Bars Specifications

Part Number

Capacity

Dimensions

MTI500WB40

5000 lbs

40" long

MTI500WB33

5000 lbs

33" long

MTI500WB22 no longer available

2000 lbs

22" long

APPLICATIONS

Versatile -- attach your own custom platform
Unique -- can be attached under chutes, conveyors, or tables
Mobile -- place on a cart for a mobile scale system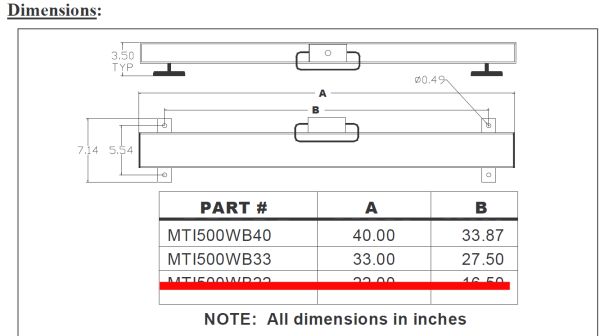 Call (919) 776-7737 to request a quote or click the button above