Chute Weigh Scales and Load Bars in the Central Carolina Scale electronic scale catalog
ECONOMY WEIGH BARS
This system includes (2) Weigh Beams calibrated with digital weight indicator. These are probably the most affordable in the industry. It includes two complete weigh bars with quick disconnect cables, and one indicator with internal battery. Weigh bars include carry handle and small wheel for simple portability functionality.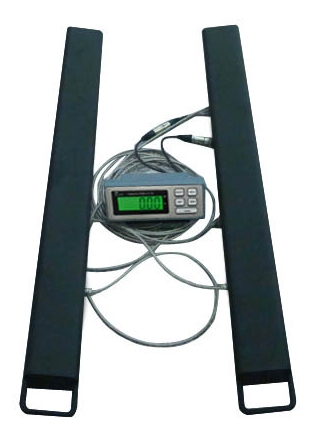 Each System Includes
• Two 40" long weighbars & digital weight indicator
• Stainless steel shielded cables
• AC adapter & charger
• Operating Manual
• Factory Calibration
We evaluated a set of these 5000 pound capacity weigh bars and they are a very nice set of weigh bars at a great price. The weigh beams arrived in cardboard packing and in excellent condition. With the way the freight companies handle packages these days, this one arrived in very good shape which is quite an accomplishment for a box weighing about 65 pounds.
As you can see the system comes very nicely packaged. Everything is neatly packed. The price of the system is very affordable but there are a few things you need to understand before purchasing these. First, the indicator is plastic so you will want to keep this system out of the elements as much as possible.
The bars themselves are somewhat unstable with no weight applied. A big part of this is due to the load cell feet which are by design very flexible allowing for self alignment. In our opinion, you would be best served to screw the adjustable feet in quite a bit and place some kind of heavier item across the beams to help stabilize the overall system. An example might be placing a fifty pound wooden pallet across the beams or perhaps a 3/4" piece of heavy plywood. After you do this you can zero out the weight. In some rare instance this might require you to do a calibration but the instructions are in the user manual if that happens.
Overall, this system is a very nice value in our opinion. A few simple steps can make sure that the system is secure and provides you with a trouble free weighing experience.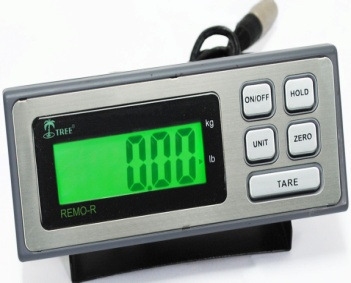 | | | | |
| --- | --- | --- | --- |
| Part Number | Length | Capacity | Shipping Weight |
| WB-5K-40 | 40" | 5000 x 1 lb | 64 lb |
| WB-10K-40 | 40" | 10,000 x 2 lb | 71 lb |

Call (919) 776-7737 to place an order or click above to request a quote